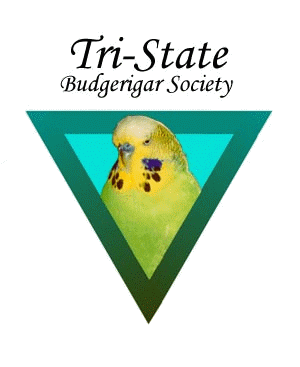 Founded in 1984, Tri-State Budgerigar Society (TSBS) is a club dedicated to the keeping, care, breeding and exhibition of budgerigars (budgies or parakeets). The club, which is based in central New Jersey, USA, is affiliated with the Budgerigar Association of America (BAA) and hosts an annual show in the Central Jersey area. Our mission is to promote the hobby of keeping budgerigars and to share the knowledge of proper housing, nutrition, exhibiting, breeding toward the ideal standard of perfection, and creating a tame and social pet. Although the main focus of the club is the showing and breeding of quality exhibition type (English) budgerigars, the club also provides guidance and information on keeping pet budgies or common parakeets (American).

In addition, there are monthly meetings focusing on education and social contact. The club holds several meetings a year at various locations in central New Jersey (USA). These meetings are generally held on the 3rd or 4th Saturday or Sunday of the month at 2:00 p.m. Meetings are currently held in the towns of Saddle River, Trenton, Franklin Park, Matawan, Marlboro, Manalapan, Waldwick, and Spotswood. Each meeting has a planned presentation, guest speaker, topic, or perhaps even a field trip. There is also time to just talk birds, have some refreshments, and enjoy meeting some new friends.The club also holds an annual picnic, winter holiday dinner party, and an annual sanctioned show.

July 22-23, 2023 will be our 32st Annual Show (Budgerigar Association of America sponsored event). There will be two divisions for Pet Birds as well as divisions for Rare, Junior, Novice, Intermediate, Champion, and Best in Show. The location is Cranbury Rd. (Route 535) East Brunswick, NJ 08816.

All persons interested in budgies are welcome at all meetings and club functions.

The club affords members the opportunity to show their birds competitively, although competitive showing is not required to join us in learning how to breed and care for these wonderful birds. In addition to its annual judged show, the club provides several social events throughout the year.